Small Fruit
Integrated Pest Management for Brown Marmorated Stink Bug in Small Fruit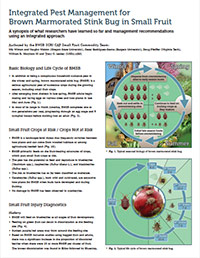 This guidance document, authored by the BMSB SCRI CAP Small Fruit Commodity Team, provides a synopsis of what researchers have learned so far and management recommendations using an integrated approach. Available in English and Spanish.
Topics Include
Basic Biology and Life Cycle of BMSB
Small Fruit Crops at Risk / Crops Not at Risk
Small Fruit Injury Diagnostics
Period of Risk/Susceptibility
Provisional Monitoring Recommendations
Biological Control
Provisional Management Strategies
Effective Insecticides for Controlling BMSB on Small Fruit Crops

Integrated Pest Management for Brown Marmorated Stink Bug in Small Fruit

Información importante sobre frutos pequeños

---
Extent of BMSB Problem in Small Fruit
BMSB feeds on blueberry and caneberries, damaging small fruit. Also, plant pathogens carried by BMSB may damage small fruit. A significant BMSB outbreak in 2010 presented a huge problem for small fruit growers.
Research Goals
Current research aims to monitor BMSB presence, assess damage caused by the insect, and develop effective control measures for growers of small fruit. The small fruit crop group is monitoring for BMSB in blueberries and caneberries in Maryland, New Jersey, New York, Oregon and Virginia.
Updates and Findings
As of June 2012, BMSB populations in New Jersey blueberry farms remain low.
More Resources