Grapes
Integrated Pest Management for Brown Marmorated Stink Bug in Grapes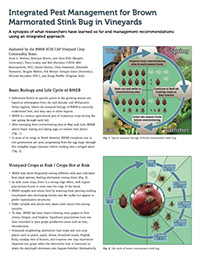 This guidance document, authored by the BMSB SCRI CAP Vineyard Crop Commodity Team, provides a synopsis of what researchers have learned so far and management recommendations using an integrated approach.
Topics Include
Basic Biology and Life Cycle of BMSB
Vineyard Crops at Risk / Crops Not at Risk
Grape Injury Diagnostics
Period of Risk/Susceptibility
Provisional Monitoring and Scouting Recommendations
Provisional Management Strategies
Biological Control

Integrated Pest Management for Brown Marmorated Stink Bug in Grapes

Manejo integrado de plagas para la chinche apestoza café marmolada en viñedos
---
Extent of BMSB Problem in Grapes
BMSB may damage not only grape berries, but also may cause abscission of entire clusters (the plant will cut off and drop fruit.) Insecticides control BMSB to a degree. Also, the use of broad-spectrum insecticides may cause outbreaks of grape mealybug, the vector for grapevine leafroll, a serious plant virus.
Research Goals
Researchers are monitoring for BMSB primarily in various cultivars of wine grapes, both red and white. They are studying BMSB feeding, monitoring risks to commercial vineyards, and seeking an effective control strategy. They are monitoring in Maryland, New Jersey, Oregon, Pennsylvania, and Virginia.
Updates and Findings
BMSB threatens commercial vineyards, and researchers are trying to determine the degree of that risk.
Feeding on berries causes a necrosis and shriveling. Adults start laying eggs in late spring; population dynamics in vineyards appear to be affected by which crops are nearby.
Initial observations in 2012 suggest that BMSB presence in wine grapes after harvest does not affect wine taste and scent. While there is a distinct taint in freshly crushed juice, the taint does not appear to be stable after the fermentation and bottling process.
More Resources
March 8, 2017
Brown Marmorated Stink Bug Trapped in the Clarksburg American Viticulture Area
BMSB continues to spread slowly in California, but no damage has been reported in commercial agricultural crops. Source: WineBusiness.com, Mar. 8, 2017.
July 16, 2013
Scientists Publish on Stink Bug's Favorite Plants, Damage
Researchers unveil a list of 170 plants that the brown marmorated stink bug attacks, and web videos show how to monitor for infestations.
July 6, 2012
Oregon Winegrowers Raise Stink about Bug
Invasive pest detected in Willamette Valley towns, not yet in vineyards. Source: Wines & Vines, July 6, 2012.