Biological Control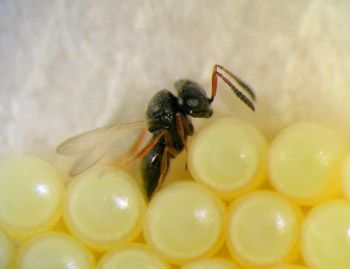 An adult Trissolcus basalis female attacks an egg mass of the stink bug species Nezara viridula, similar in appearance to the eggs of brown marmorated stink bug. Several related Trissolcus species attack BMSB in its native range in Asia, and in North America. Photo by M. Roche
The Challenge
Brown marmorated stink bug parasites or predators have the potential to provide landscape-scale control of this pest in the future. Natural enemies of stink bugs that are native to North America could potentially play a role in controlling BMSB. In addition, BMSB enemies that are native to Asia could be considered for potential release in the United States, once USDA's Animal and Plant Health Inspection Service is convinced the imported species will not threaten other insects, like beneficial stink bugs.
Research Response
Researchers have identified a group of tiny parasitic wasps, Trissolcus, that is known to attack BMSB eggs. In addition, a naturally occurring fungus, Ophiocordyceps nutans, attacks BMSB in Japan, and other fungi have been shown to target BMSB in laboratory studies. Ultimately, a program of natural biological control could provide the safest, most effective, and economical approach to tackling BMSB.
The list of native natural enemies that attack brown marmorated stink bug includes other species of insects, spiders, and even some birds and mammals.
A key natural enemy of brown marmorated stink bug is the egg parasitoid Trissolcus japonicus, also known as the "samurai wasp". These stingerless warriors search for and destroy 60–90% of BMSB eggs in Asia.
---
Publications
| | |
| --- | --- |
| | |
| USDA factsheet about the samurai wasp (Trissolcus japonicus), a natural enemy of the brown marmorated stink bug. | Brochure about Trissolcus wasps and their use as biological control agents of the brown marmorated stink bug. |
Updates, Findings, and Related Resources
June 19, 2018
BMSB Management Survey for Commercial Producers
Participate in a nationwide survey to gather information from farmers and growers on the economic impact of the brown marmorated stink bug (BMSB) on agriculture.
March 7, 2017
Stink Bug Killers: Scientists to Release Samurai Wasps
The discovery of Trissolcus japonicus in Ulster County is likely to speed approval for the rearing and release of wasps in New York State. Source: Poughkeepsie Journal, Mar. 6, 2017.
March 17, 2015
Asian Wasp, Enemy of Stink Bugs, Found in the United States
The Asian wasp Trissolcus japonicus has been found in the wild in the United States. The wasp, native to the regions of Asia where the brown marmorated stink bug (BMSB) originates, is known to attack the eggs of BMSB and possibly other stink bugs.
September 29, 2014
From Asia: Sustainable Insights into Stink Bugs
A collection of articles originally published in Asia yields a bounty of insights into the brown marmorated stink bug.
July 26, 2012
SCRI Team Provides Training on Parasitoid Identification
Researchers teach workshop participants to recognize natural enemies of brown marmorated stink bug, part of the strategy to control the invasive insect.