Monitoring Tools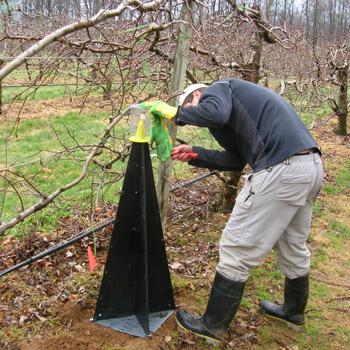 Black pyramid traps are used in conjunction with testing of BMSB attractant, odor #10. Photo by B. Butler
The Challenge
Project researchers are monitoring the presence, abundance, and seasonal activity of BMSB to assess when and where control measures may be needed. This approach could form the basis of a cost-effective and safe control program for growers. However, BMSB is not easily lured into traps even when significant populations seem to be present.
Research Response
Pheromones and lights are two types of lures being studied to attract BMSB into traps, so that growers can monitor the pest's presence, abundance, and activity.
Pheromone lures: In 2012, researchers conducted trials of a pheromone known as "odor #10," which in preliminary studies reliably lured BMSB into traps in the field.
Lights: Preliminary studies show that stink bugs are attracted to white, blue, and black light. In 2012 researchers studied which spectrum of those lights does the best job of attracting BMSB into traps, protecting nearby orchards.
Updates, Findings, and Related Resources