Orchard Crops
Integrated Pest Management for Brown Marmorated Stink Bug in Orchard Crops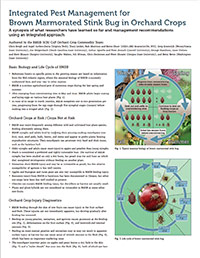 This guidance document, authored by the BMSB SCRI CAP Orchard Crop Commodity Team, provides a synopsis of what researchers have learned so far and management recommendations using an integrated approach.
Topics Include
Basic Biology and Life Cycle of BMSB
Orchard Crops at Risk / Crops Not at Risk
Orchard Crop Injury Diagnostics
Period of Risk/Susceptibility
Provisional Monitoring and Scouting Recommendations
Provisional Management Strategies
Biological Control
Effective Insecticides for Controlling BMSB in Orchard Crops
Problems That May Arise from Multiple Post-Bloom Applications of Broad-Spectrum Insecticides in Orchard Crops

Integrated Pest Management for Brown Marmorated Stink Bug in Orchard Crops

Información importante sobre huertos de frutas

---
Extent of BMSB Problem in Orchard Crops
BMSB feeds on and can injure apple, pear, peach, apricot, cherry, nectarine, peach, plum, and hazelnut. A major BMSB outbreak in the mid-Atlantic region and increasing populations in parts of the Pacific Northwest in 2010 created significant economic problems for many orchard crop growers.
Research Goals
Our research team is studying BMSB feeding injury and monitoring population and effects of BMSB in wild host plants and tree fruit orchards. Understanding how BMSB responds to light and smell will enable us to attract the insect into baited traps in orchards, a potential control strategy.
Updates and Findings
Although BMSB caused damage to orchard crops throughout the mid-Atlantic States in 2011, its overall effects were not as severe as in 2010, as growers used more targeted and aggressive management programs. Since these programs often relied heavily on broad-spectrum insecticides that can be disruptive to the parasitic wasps, predatory mites, and other natural enemies of some pest insects, growers noted increased instances of mite, aphid, and scale outbreaks in 2011.
In 2012, the size of the overwintering BMSB population was much reduced, compared with 2011. Commercial tree fruit orchards experienced fewer problems, although researchers and growers still detected crop injury.
Scientists improved their methods for diagnosing fruit injury.
More Resources